Pendlemist's Past & Present - not just Siamese and Orientals, but all sorts of cat pictures are on this super web site.
Governing Council of the Cat Fancy - for information on GCCF shows (where you may see me) and other interesting feline information.
Pippakits Persians - take a look at some lovely Persian cats, including two members of my Red Headed League.
I Love Cats.com - a directory of cat web sites.
Persian-Cats.com - the place to go for information on Persian cats.
Apleovmyi - a fine web site with an interesting name that features some nice cats.


- take a tour of the Purrinlot castle and see some magnificent Persians on this outstanding web site.


Antoninas Cattery - on the island of Tenerife and home of Orange World member Trummis.
Confederate Cooking - great cooking from the Civil War era.
Purrinian Persians - take a look at the 'official' Purrinian site.
Marci's Cakes & Cats - prepare to be amazed by these cakes and enjoy the Persian Cats as well.
Cuty Boy - my hero Cuty now has is own fantastic web site.
Davis Family - meet our friends from Alabama.
Chatterie D'Ispahan - a French cattery where you can see Orange World members Enzo and Pauline.
Bristol & District Cat Club - a nice club of which I am a member.
Kaiserliche Marine - An historical site about the Imperial German Navy. Great ship pictures!
Royal Navy 1910-1923 - Just what it says! Photographs of ships, characters and also original drawings.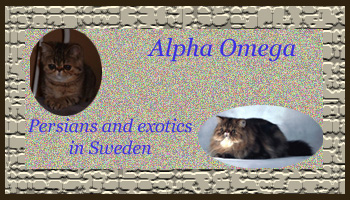 Celtic Longhair and Semi Longhair Cat Society - A fine Welsh cat club, Cymru am byth!
Oscarbara Cattery - The home of my father and other splendid cats.
E-mail me at: purrindylan@blueyonder.co.uk